The EO4GEO kick-off meeting took place on January 16th to 17th 2018 and was hosted by Italian Consiglio Nazionale delle Ricerche (CNR) and led by the GISIG-international group in Milan, Italy.
At least 60 participants had the opportunity to discuss the first strategic and practical actions of the project with several partners involved in the 10 work packages and to present the work objectives and outlines for each work package.
On the first day, after the Copernicus overview presented by Emanuele Barreca from DG GROW, the Erasmus+ Blueprint Skills by Milva Carbonaro and the ESA (education) activities by Francesco Sarti. There was a concise introduction given of the EO4GEO Work Objectives and the ambitious goals of the Alliance. A Consortium presentation took place and each partner had the opportunity to expose the work perspectives, the team and others projects in which they are involved. During the scientific and technical sessions the survey on supply and demand for GI & EO education and training was discussed, as well as the approach to create a Body of Knowledge and a collaborative platform linking the BoK, the Curriculum design tool and the Copernicus services. The strategy for designing curricula for Copernicus, the related training actions and the long-term action plan were discussed as well.
EO4GEO will be a challenging project, not only because of the many partners involved, but also because it aims to put in place a sustainable education and training eco-system to foster Copernicus uptake. More information about the project can be found here.
Next meeting will be in Castellon (Spain), end of May/beginning of June.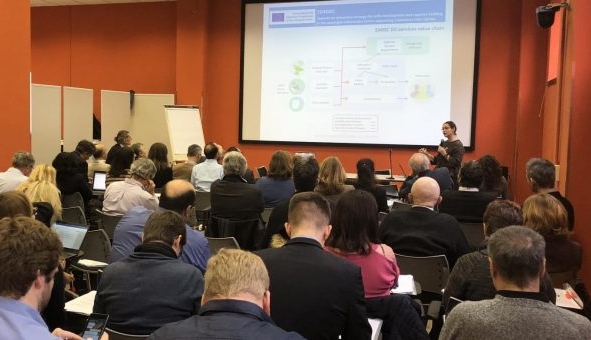 Subscribe to our
newsletter
Keep yourself updated, receive EO4GEO news and new training info.
Become an
Associated Partner
Be part of EO4GEO and let's discuss and work together on the supply and demand of skills in the EO/GIS sector.
Stakeholders in the EO, GIS and Skills sectors are more than welcome to join!
join our
Network of Experts
The EO4GEO project is inviting experts in the Earth Observation / Geographic Information sectors to participate in the process of developing a Body of Knowledge (BoK).