Project liaisons
EO4GEO aims at stablishing close relation and collaboration with on-going research projects in the EO/GI field.
Liaisons pursue a mutually beneficial cooperation between projects, in particular:
Disseminating project results through the project's communication channels.

Pursuing the joint organization of events/initiatives.

Exchanging an benefiting from project results, methodologies and experiences.
CopHub.AC project
The vision of the Horizon 2020 project CopHub.AC is to establish a long-term Copernicus hub to consolidate and sustain the Copernicus Academy as a knowledge and innovation platform.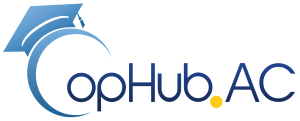 To fulfill this several nodes will be created – like a new form of research briefs, knowledge landscape, outreach and sustainability. It will focus and link ongoing R&D activities in Copernicus-relevant academic fields and sustain the innovation process from academia to business on a high scientific and technical level. We have a clear commitment to a full thematic and geographic coverage for a Europe-wide boost in demand-driven uptake of space technology and geospatial information.
Activities of a specific Workpackage "Copernicus Academy Outreach" will contribute to the development of the ecosystem that the Commission is building around space data and information with a main focus on the match with the end user/market needs and the economic dimension. The Blueprint for Sectorial cooperation on Skills development for the EO sector defines the contribution of the Academy as ensuring the guided development of training and networking initiatives allowing the matching of university curricula and industry professional profiles, vocational and cross sectorial training, research knowledge transfer business (spin-offs), and networks empowerments.
To this end the a specific activity "Support, link, harvest on EO4GEO educational and skills development activities" (led by GISIG) will be carried out. The obvious synergy between CopHub.AC and EO4GEO will foster a multiple impact of the two projects. From the CopHub.AC perspectives, the link and harvesting of the EO4GEO outcomes will create an added value in supporting the knowledge landscape, the thematic working groups, with particular emphasis on the CopHub.AC outreach objectives.
Joint activities will include:
Exploitation of and contribution to the EO4GEO GI/EO Body-of-Knowledge, especially by mobilizing additional experts from CopAcad that can contribute to its maintenance in the long term.
Support the CopHub.AC thematic working groups with the EO skills intelligence released within the project, the EO4GEO Curricula, the training packages and by contributing to the design of additional scenarios for particular work processes not covered in EO4GEO.
Linking with the networks-of-network tasks in EO4GEO.
Joint participation in the CopHub.AC and EO4GEO public events.
Subscribe to our
newsletter
Keep yourself updated, receive EO4GEO news and new training info.
Become an
Associated Partner
Be part of EO4GEO and let's discuss and work together on the supply and demand of skills in the EO/GIS sector.
Stakeholders in the EO, GIS and Skills sectors are more than welcome to join!