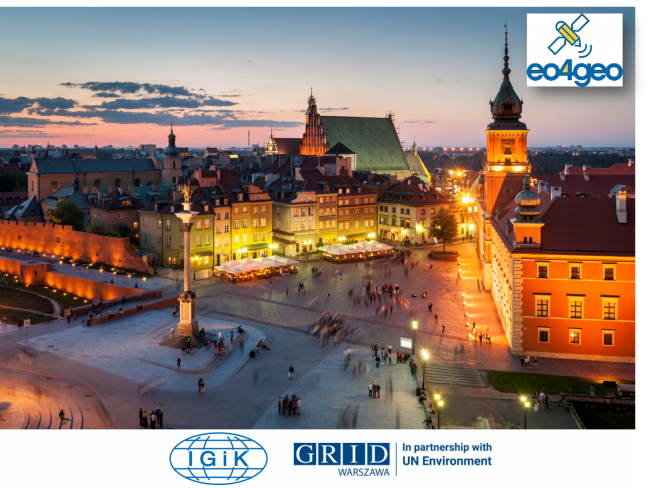 We are pleased to announce that next EO4GEO Workshop on "Design of EO and related curricula" will be held in Warsaw (PL) on Wednesday 27 November 2019 in the ZODIAK Pavilion of Architecture, organised by the Institute of Geodesy and Cartography (IGiK).
The workshop will bring together the EO4GEO partners and representatives from the space/geospatial sector and Copernicus Programme, with the main aim to discuss on occupational profiles and with hands-on practical training for designing curricula.
Moreover, a joint session EO4GEO – UNEP-GRID will be held in the afternoon of Tuesday, November the 26th, linked to the Big Data Branch, Science Division of UNEP.
Further info and agendas are available below.
Logistics and practical information can be downlaoded here.
EO4GEO - UNEP-GRID joint session
26 November 2019 | 2.30 pm, Palace of Culture and Science, Rudniewa hall, IV floor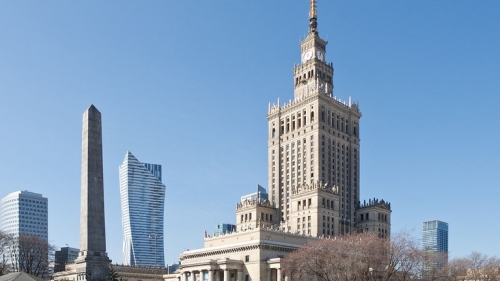 14:00 – 14:30
Registration
14:30 – 14:45
Opening by the representative of the City of Warsaw & Director of the UNEP/GRID-Warsaw
14:45 – 15:30
Global perspective, big data for sustainable development

Alexandre Caldas – Chief Big Data Branch, Science Division, UN Environment / Chair of the UN System Network of the UN-GGIM United Nations System Network on geospatial information management – towards a United Nations Geospatial Blueprint
Pascal Peduzzi – Director, UNEP/GRID-Geneva, Science Division, UN Environment World Environment Situation Room
Discussion

15:30 – 15:45
Coffee break
15:45 – 16:30
European perspective, COPERNICUS Programme

Milva Carbonaro – Geographical Information Systems International Group (GISIG): EO4GEO – Towards an innovative strategy for skills development and capacity building in the space geo-information sector supporting Copernicus User Uptake
Monica Miguel-Lago – European Association of Remote Sensing Companies (EARSC): Space/Geospatial Sector Skills Strategy
Discussion

16:30 – 17:15
Local perspective, big data for smart cities

Tadeusz Osowski – Director of Digitization Office, City of Warsaw: Data-driven development – the Digital Policy of the City of Warsaw
Big data for smart cities (ORANGE)
Discussion

Final comments, end of the meeting
EO4GEO Workshop
27 November 2019, ZODIAK Warsaw Pavilion of Architecture
"Design of EO and Related Curricula"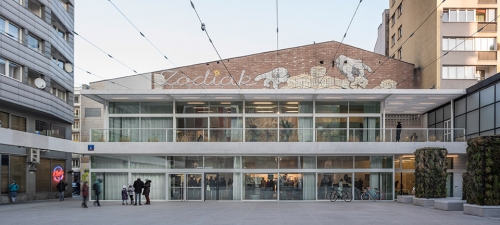 Welcome
8:30 – 9:00
Registration
9:00 – 10:30 
Introduction of EfVET – European Forum of Technical and Vocational E&T, Maria João Proença, Head of Office and Programme Manager

Workshop – Setting the Scene

Welcome and Introduction (GEOF, PLUS): Curriculum design components and approach: the BoK, the tools, the design rational
Occupational Profiles in high demand (ROSA)
BoK – Overview on concepts and skills provided (FSU)
Demonstration of BoK related tools (UJI)

EO4GEO Approach for Integrating Tools, BoK, curricula design

Reuse of concepts and skills from the BoK for curriculum design, profiles, job descriptions (ITC, FSU, UJI, PLUS)

10:30 – 11:00
Coffee Break
11:00 – 13:00
Demo on how to use LTB to explore the BoK (by ITC)

4-6 small groups lead by FSU, GEOF, ITC, PLUS, ROSA, UJI

Working sessions on the key ingredients for making the EO4GEO approach work: specification of tasks using BoK concepts and skills

Workshop participants specify tasks of business processes using concepts and skills specified in the BoK
Collect feedback on BoK content

13:00 – 14:30
Lunch
14:30 – 15:30

Report from the working sessions
Discussion of observations, further proceeding

Comfort break
Subscribe to our
newsletter
Keep yourself updated, receive EO4GEO Alliance news and info on new opportunities.
Be part of the EO4GEO Alliance and let's discuss and work together on the supply and demand of skills in the EO/GIS sector. Stakeholders in the EO, GIS and Skills sectors are more than welcome!
Join a Network pooling together expertise from academia, VET providers, company, public institutions, research centres and sectoral associations with the common goal of fostering skills development in the space and geoinformation downstream sector.