The CopHubAC Partnership Award "From Research to Market 2020", organised by CopHub.AC and EARSC aims to recognise and reward noteworthy collaborations in public-private partnerships (Academia and Companies) for the Copernicus user uptake.
Participants will submit a proposal for cooperation or present a collaborative result already established "from research to market".
The winning partnership will be chosen on the basis of these criteria: value creation, sustainability, internal procedures of engagement, outreach and marketing.
Deadline entries: 30 April 2020.
More information on the EARSC website: http://earsc.org/news/partnership-award-from-research-to-market-2020
Please spread the word to anyone who might be interested.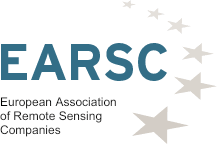 Subscribe to our
newsletter
Keep yourself updated, receive EO4GEO news and new training info.
Become an
Associated Partner
Be part of EO4GEO and let's discuss and work together on the supply and demand of skills in the EO/GIS sector.
Stakeholders in the EO, GIS and Skills sectors are more than welcome to join!
join our
Network of Experts
The EO4GEO project is inviting experts in the Earth Observation / Geographic Information sectors to participate in the process of developing a Body of Knowledge (BoK).