The Icon Group, CAPIGI and EARSC invites you this November 4th to a webinar to learn more about the EO/GIS skills challenge in Europe and how a company such as the Icon Group deals with it.

According to the EARSC 2019 Industry Survey, 80% of European EO companies are finding it difficult to find and hire candidates, making staffing one of the highest barriers to growth for the sector. The Icon Group, Ireland's biggest geospatial company, has decided to take a more pro-active approach to the problem by being engage in different activities to reduce the gap between academia and industry, including their Annual Student Essay competition.
This time we have four fantastic speakers, including the winner and the runner up of the 'Annual student essay competition' organised by The Icon Group. The speakers will share their experience and view on staff, skills and employment in the earth analytics.
Click on the button below for more information and registration to the webinar.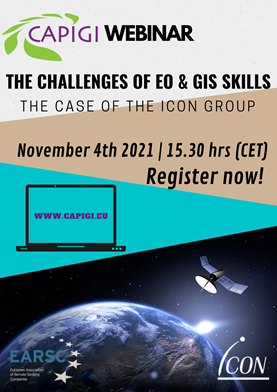 Subscribe to our
newsletter
Keep yourself updated, receive EO4GEO Alliance news and info on new opportunities.
Be part of the EO4GEO Alliance and let's discuss and work together on the supply and demand of skills in the EO/GIS sector. Stakeholders in the EO, GIS and Skills sectors are more than welcome!
Join a Network pooling together expertise from academia, VET providers, company, public institutions, research centres and sectoral associations with the common goal of fostering skills development in the space and geoinformation downstream sector.