This April 8th, the GIS4Schools Erasmus+ project invite you to the event "Paving the way for the school of tomorrow". The event will gather relevant actors from both space and education domains to discuss the need for innovative STEAM learning paths, and how national education policies can increase the interest of STEAM disciplines for the younger generation.
---
Leveraging on the case study of the GIS4Schools project, in its halfway path, the participants will discuss which approach to adopt to promote and encourage the definition of innovative education curricula that will help the pupils develop their critical spirit and pave the way for the future.
The event, organised by Eurisy and supported by Euronike, will take place on April 8th from 10 am to 1 pm CET, at the European Space Agency premises in Paris.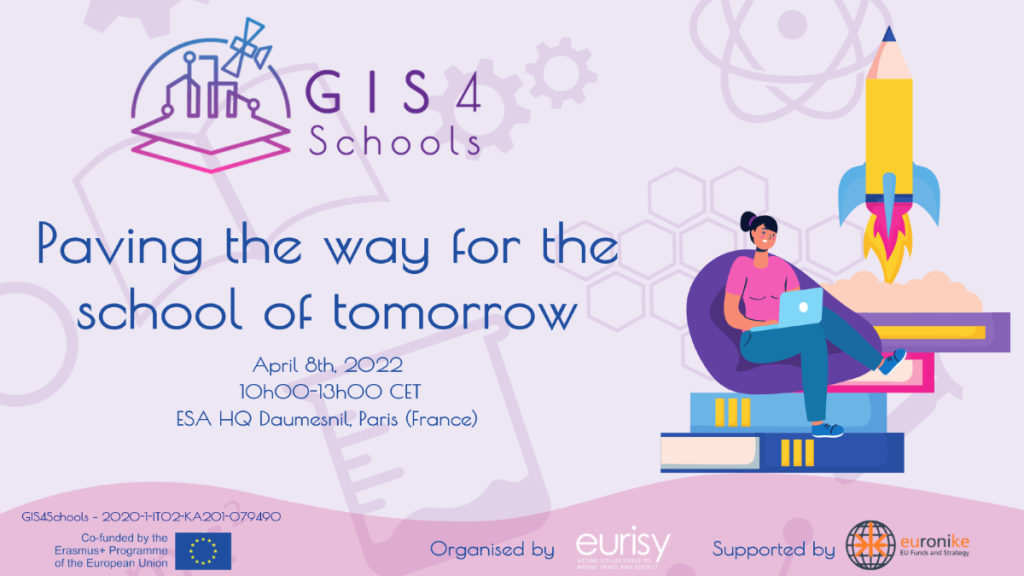 Subscribe to our
newsletter
Keep yourself updated, receive EO4GEO news and new training info.
Become an
Associated Partner
Be part of EO4GEO and let's discuss and work together on the supply and demand of skills in the EO/GIS sector.
Stakeholders in the EO, GIS and Skills sectors are more than welcome to join!
join our
Network of Experts
The EO4GEO project is inviting experts in the Earth Observation / Geographic Information sectors to participate in the process of developing a Body of Knowledge (BoK).