The EO4GEO BoK software platform forms the bridge between the knowledge contained in the BoK on one hand, and software applications exploiting it on the other.
In essence, the platform stores, serves and is the main entry point for the official release of the BoK. It provides a universal representation of BoK concepts and relations, programmatic access and a set of useful software components ready to be used in software applications based on the BoK. It also offers a compact, easy-to-use BoK Visualizer.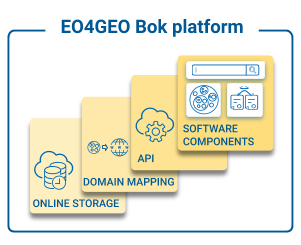 Schematic representation of the EO4GEO BoK software platform
---
The Body of Knowledge resides in an online cloud database. It stores the current (last) version of the BoK, along with all historical versions to ensure backwards compatibility.

The domain mapping maps each BoK concept to a Universal Resource Identifier (URI). These URIs – we use permalinks – provide a universal and unique way to identify and refer to BoK concepts and a way to retrieve their description, relationships, skills and other attributes.

The Application Programming Interface (API) provides programmatic access to the concepts (and their URI), relationships and associated attributes. They allow applications to query the Body of Knowledge, and exploit the knowledge contained in it. Find the BoK API documentation HERE.
Subscribe to our
newsletter
Keep yourself updated, receive EO4GEO Alliance news and info on new opportunities.
Be part of the EO4GEO Alliance and let's discuss and work together on the supply and demand of skills in the EO/GIS sector. Stakeholders in the EO, GIS and Skills sectors are more than welcome!
Join a Network pooling together expertise from academia, VET providers, company, public institutions, research centres and sectoral associations with the common goal of fostering skills development in the space and geoinformation downstream sector.