Solar resource and forecasting at municipality level
An EO4GEO Webinar | November 9th, 2021, 14:00-15:30 CET.
T
he EO4GEO Partner UPAT in collaboration with the e-shape project, invites you this November 9th, 2021 at 14:00-15:30 CET to a webinar aimed to designate the potential role of solar energy resource and forecasting in solar farms' efficient planning and operation.
The participants will be able to understand the basics about solar resource and forecasting as well as the benefits of Earth Observation systems to the solar energy sector. State-of-the-art solar energy forecasting tools from European to municipality scale will be presented for selected cases.
The webinar is mainly non-technical and targets planners on regional/city/municipal scale as well professionals with no extensive experience in solar energy.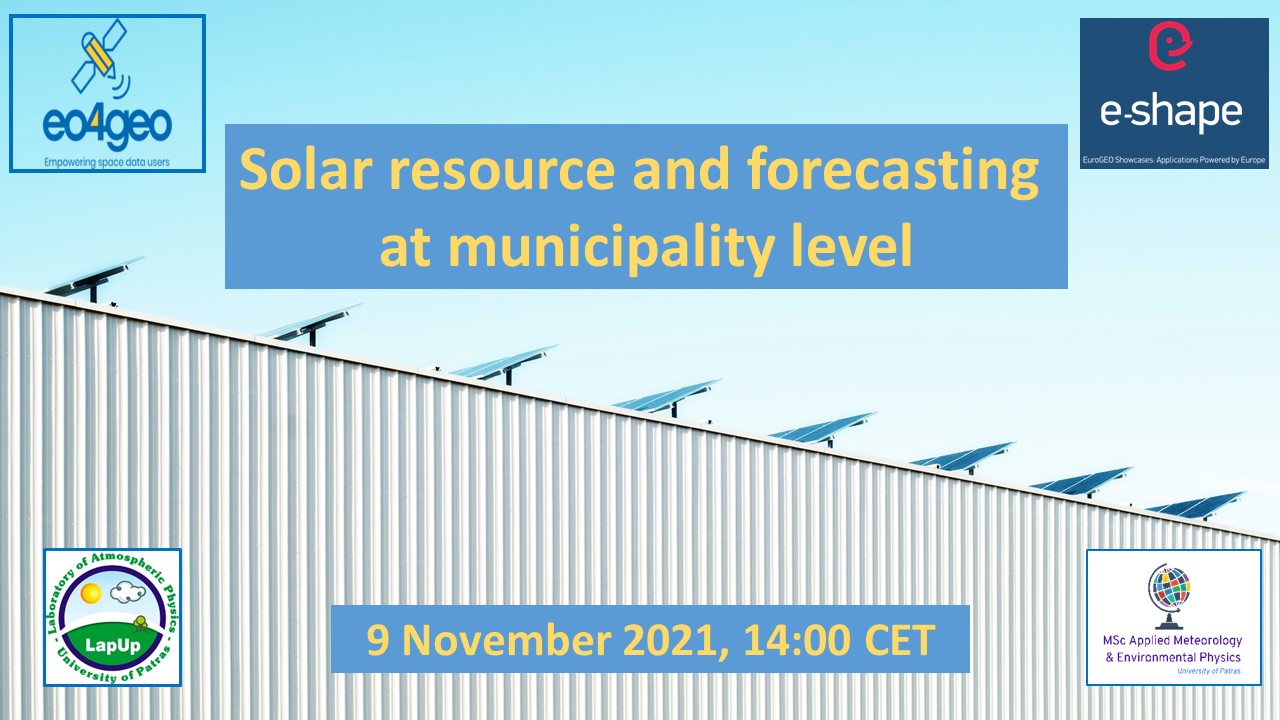 Date
November 9th, 2021 at 14:00 CET. Duration: 1.5 h.
Agenda
Presentation of the webinar content and the EO4GEO project
Bringing together Earth Observation resources in Europe: the e-shape project
Energy meteorology: Terms and Definitions
Earth Observation systems for Solar Energy
Solar energy nowcasting and short-term forecasting
Use of satellite data to assess and forecast solar energy potential in cities: from solar cadaster to PV variability at urban scale
Speakers:

Andreas Kazantzidis (Laboratory of Atmospheric Physics, University of Patras, Greece)
Stelios Kazadzis (Physics – Meteorology Observatory Davos, Word Radiation Center, Switzerland)
Philippe Blanc (MINES ParisTech, PSL Research University, France)
Subscribe to our
newsletter
Keep yourself updated, receive EO4GEO news and new training info.
Become an
Associated Partner
Be part of EO4GEO and let's discuss and work together on the supply and demand of skills in the EO/GIS sector.
Stakeholders in the EO, GIS and Skills sectors are more than welcome to join!
join our
Network of Experts
The EO4GEO project is inviting experts in the Earth Observation / Geographic Information sectors to participate in the process of developing a Body of Knowledge (BoK).